USB to RS485 Compact FTDI Converter with Terminal Screw 6FT
The USB to RS485 compact converter is a professional serial converter for your RS485 devices. It's designed with a input/output terminal screw connector that easily wires into your serial devices. It's a great converter and easy to use in a compact package.
Compatibility
USB to RS485 Compact FTDI Converter with Terminal Screw 6FT
Compatibility
6FT. Compact USB to RS485 Converter
The USB to RS485 converter is unique in that it uses a terminal block to convert your signal. The terminal block is a two piece connection with the GND, B, and A signals wired to the input. The second piece is a separate 3-wire output connector to receive signal from your device.
A clear over-molded jacket on the USB to RS485 converter Type-A Male USB connector protects the LED indicators for power, B, and A signals. This uniquely designed USB to RS485 converter is with FT232RL+SP485 chips supporting 5V operation and powered by the USB port.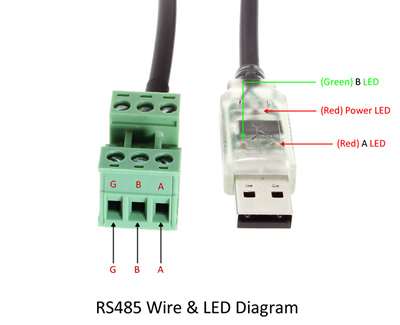 USB to RS485 Converter Features
USB 2.0 specifications compliant
5V power operation for serial devices
Protected LED indicator signal lights
USB to Stripped wire terminal connector interface
Flexible 6ft. black cable
RS485 Converter Specifications
Support for Windows 10, 8/8.1 (32/64 bit) Win 7 (32/64 bit), Vista (32/64 bit), XP, Server 2003 (32/64 bit), 2008 (32/64 bit), Linux and Mac OS X
Integrated FTDI FT232RL chip
RS485 3-wire terminal connector
Signals: RS485, 2-wire half duplex: D+, D-, GND and optional +5VDC
Speed: 300-921.600bps baud rate - up to 3kbps
Certifications: FCC, CE, RoHS
Operating Temperature: -40°C to 85°C
6ft length overall (end to end)
Sometimes you need a product in a flash and just want to verify an item is in stock. Other times you have a specific question regarding a product, shipping method, or your order. Use the form below and we will help. Please refrain from spam, we only log this information to our database for 24-hours and then it's gone.
Specifications
| | | | | | |
| --- | --- | --- | --- | --- | --- |
| Manufacturer: | Gearmo | Warranty: | 1 Year | Availability: | Discontinued |
| Barcode: | 045079158870 | Ship Weight: | 0.16 | Condition: | New |
| Part Number: | GM-UTTL3WTB | Color: | Black | Length/Size: | in |
| Port Count: | -- | Port Type: | -- | Input Voltage: | Unspecified or N/A |
| Temperature(Op): | -- | ESD Protection: | -- | Serial Modes: | -- |
| LEDs: | -- | Isolation: | -- | Chip: | -- |
Specifications
| | |
| --- | --- |
| Manufacturer: | Gearmo |
| Barcode: | 045079158870 |
| Part Number: | GM-UTTL3WTB |
| Warranty: | 1 Year |
| Ship Weight: | 0.16 |
| Color: | Black |
| Availability: | Discontinued |
| Condition: | New |
| Port Count: | -- |
| Port Type: | -- |
| Input Voltage: | Unspecified or N/A |
| Temperature(Op): | -- |
| ESD Protection: | -- |
| Isolation: | -- |
| Serial Modes: | -- |
| LEDs: | -- |
| Chip: | -- |