Rack Mountable USB 2.0 to Octal RS-232 Wide Temp Serial Hub
This versatile industrial USB 16-port HubCOM provides 8 USB 2.0 downstream ports and 8 USB to RS-232 serial ports. There are no IRQ & COM port conflicts, uses lockable terminal power connector to supply 5V, 3A power to external device.
Compatibility
Rack Mountable USB 2.0 to Octal RS-232 Wide Temp Serial Hub
Compatibility
Rack-Mountable – Wide Temp Range – Industrial 8-Port USB to RS-232 Serial Hub
The HubCOM-880i-RM is a rugged, industrial-grade Rack Mountable USB 16-Port combo hub consisting of 8 USB to RS-232 serial ports and 8 ports industrial USB 2.0 hub. This USB serial combo hub is compliant with USB 2.0 specification, it expands one USB host port into a combination of 8 high-speed RS-232 serial ports and 8 highly-efficient USB 2.0 ports.
This industrial-grade HubCOM supports USB 2.0 high speed of 480 Mbps, USB 1.1 full speed of 12 Mbps, and low speed of 1.5 Mbps. It is powered by a quality industrial-grade switching power supply.

The HubCOM-880i-RM USB Hub is designed to make RS-232 serial port expansion fast and uncomplicated, in addition to adding 8 USB 2.0 downstream ports for easy USB ports expansion. The HubCOM-880i-RM is automatically detected and installed to the system once connected, no additional memory resources are used on the system.
USB 2.0 Port Support
Over-current detection and protection circuit design for USB hub
Each downstream USB port supplies 5V 500mA power for external high-power USB devices.
Supports USB 1.1 and USB 2.0 transfer speeds (1.5 ~ 480Mbps), automatic link and speed detection
All USB connectors with screw holes to lock the USB cable for extended security
Compatible with Windows Communication Applications
All RS-232 ports function as native Windows COM ports, and they are all compatible with Windows serial communication applications. Each of the 8 serial ports is individually configurable
with different serial port speeds, serial communication parameters of data bits, stop bits,
parity and RTS/CTS, XON/XOFF flow control, transmit and receive FIFO size, etc.
The HubCOM-880i-RM Rack Mountable USB Serial Hub is designed for the use in industrial application under
tough working environments. It is housed in a DIN-rail as well as rack-mountable metal
case with screw holes on each USB port for lockable USB and power cables. Next to each USB downstream port connector are two screw holes for lockable USB cables to add extra reliability of connection. The terminal power input connector has two screw holes securely locking the power wires to prevent them from accidental disconnection.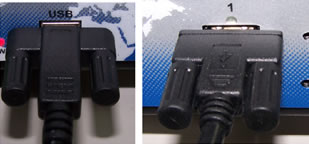 The USB to Serial Hub Combo incorporates the USB hub chips specifically for industrial usage. Each downstream port provides full 500mA power to the connected USB devices. This HubCOM is featured with normal operation in wide ambient temperature from -40°C to 70°C (-40°F to 158°F) operation in a harsh environment. All the USB data lines and RS-232 signals are protected by 15KV ESD protection.
HUBCOM-880i-RM Features
Adds eight industrial RS-232 serial ports and eight USB 2.0 ports by connecting to a USB 2.0 or USB 3.0 port
Industrial-grade USB 2.0 hub with rack-mountable SECC metal case
Suitable for DIN-rail and rack mounting. DIN-rail ears and rack brackets provided
Provides a terminal block connector to supply 5V 3A power for external devices
15KV ESD immunity for all USB data lines and all RS-232 signals for protection
LEDs for power, USB status of each hub port, TxD and RxD of each serial port for
easy monitoring of port activity and status
Supports wide ambient temperature operation -40°C to 70°C (-40°F to 158°F)
CE, FCC approval
Industrial RS-232 serial port supports:
Full RS-232 modem control signals (TxD, RxD, RTS, CTS, DSR, DTR, DCD) and hardware/software flow control
Baud rate up to 921.6K bps
2K byte transmit FIFO & 2K byte receive FIFO
System Requirements
Any PC with an available USB port and USB compliant operating system
– Windows 8, 7, Vista, XP, 2000, ME and above
Specifications
Serial Ports Number: 8-Port
RS-232 Signals: DCD, RxD, TxD, DTR, GND, DSR, RTS,CTS
Max. Bitrates: 921600 bps
Serial Configuration
Data bits: 7 , 8
Parity: None, Odd, Even, Mark , Space
Stop bits: 1 , 2
UART FIFO Buffer size: Each port with 2K Bytes FIFO for transmit and receive
LEDs
TxD Status 8
RxD Status 8
Power 1
USB Port Status 8
USB 2.0 Port
USB Downstream 8
USB Upstream 1
Speed
High Speed : 480 Mbps
Full Speed : 12 Mbps
Low Speed : 1.5 Mbps
Output Voltage (per port): +5V DC
Output Current (per port): 500mA (max)
Mechanical & Power
Housing: Rack-mountable Metal Case
Weight: 1070 g
Dimensions: 333mm X 144 mm X 44mm (W x L x H)
483mm X 144 mm X 44mm (W x L x H) with ears
Input Power Range: 90V AC to 264V AC
Terminal Block Connector
Output Power: +5V DC 3A
Environmental
Operating Temperature: -40 °C to 70°C
Storage Temperature: -40 °C to 85°C
Humidity: 0 to 90% RH. Non-condensing
Safety Approvals: CE, FCC
Sometimes you need a product in a flash and just want to verify an item is in stock. Other times you have a specific question regarding a product, shipping method, or your order. Use the form below and we will help. Please refrain from spam, we only log this information to our database for 24-hours and then it's gone.
Specifications
| | | | | | |
| --- | --- | --- | --- | --- | --- |
| Manufacturer: | Coolgear | Warranty: | -- | Availability: | Discontinued |
| Barcode: | 736983900593 | Ship Weight: | 6.00 | Condition: | New |
| Part Number: | HUBCOM-880i-RM | Color: | Black | Length/Size: | -- |
Specifications
| | |
| --- | --- |
| Manufacturer: | Coolgear |
| Barcode: | 736983900593 |
| Part Number: | HUBCOM-880i-RM |
| Warranty: | -- |
| Ship Weight: | 6.00 |
| Color: | Black |
| Availability: | Discontinued |
| Condition: | New |