Screw Lock USB 2.0 Hi-Speed A Non-Locking to B Locking Device Cable
USB 2.0 Cable – Screw Lock Cable
Our 6ft. Screw Lock USB cables are designed and manufactured to be the best your money can get and are available in 6, 10, and 15 foot lengths. Ensure your USB device connection and your investment with these cables!
Assures a secure connection using Screw Lock features.
Fully compliant with USB 2.0 specifications
USB 2.0 cable will automatically configure connected peripherals.
Uses 28Awg/1P + 24 WG/2C gauge wire.
Screw Lock USB 2.0 Hi-Speed A Non-Locking to B Locking Device Cable
This is an alternate version of the SC-U2MAB with locking connectors on only the "B" side.
This cable is not regularly stocked, and availability is unreliable. If you require quantity of this product please contact us with your requirements ahead of time, as we may need to place a custom production run which takes 4-6 weeks minimum, up to 12 weeks.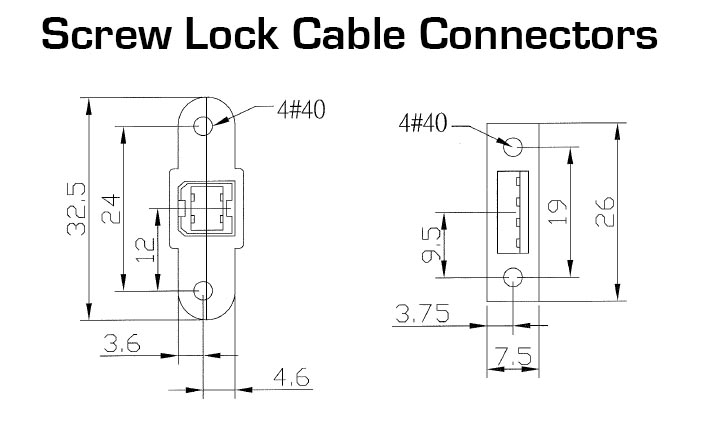 Sometimes you need a product in a flash and just want to verify an item is in stock. Other times you have a specific question regarding a product, shipping method, or your order. Use the form below and we will help. Please refrain from spam, we only log this information to our database for 24-hours and then it's gone.
Specifications
| | | | | | |
| --- | --- | --- | --- | --- | --- |
| Manufacturer: | -- | Warranty: | 1 Year | Availability: | Available |
| Barcode: | 045079161399 | Ship Weight: | 0.23 | Condition: | New |
| Part Number: | SC-U2M-A-BS | Color: | -- | Length/Size: | 6ft |
| Connector 1: | | Connector 2: | | Wire Guage: | / |
Specifications
| | |
| --- | --- |
| Manufacturer: | -- |
| Barcode: | 045079161399 |
| Part Number: | SC-U2M-A-BS |
| Warranty: | 1 Year |
| Ship Weight: | 0.23 |
| Color: | -- |
| Availability: | Available |
| Condition: | New |
| Conenctor 1: | |
| Conenctor 2: | |
| Wire Gauge: | / |